How to configure
Table of contents
1. Authorization to view the plugin
2. Custom Fields configuration
2.1. Using default plugin formula
2.2. Using your custom formula
3. Edit your formula
3.1. Further formula update
4. Use cases important notice
4.1. Using the plugin with a Scrum Project
4.2. Using the plugin and query multiple projects
4.3 Using the plugin with projects other than Scrum or Kanban (Nextgen, Service Desk,…)
5. Fill in values
6. Filtering
1. Authorization to view the plugin
Users needs 'Administer Projects' permission to view the plugin in the sidebar.
You can find more informations about project permissions here : https://confluence.atlassian.com/adminjiracloud/managing-project-permissions-776636362.html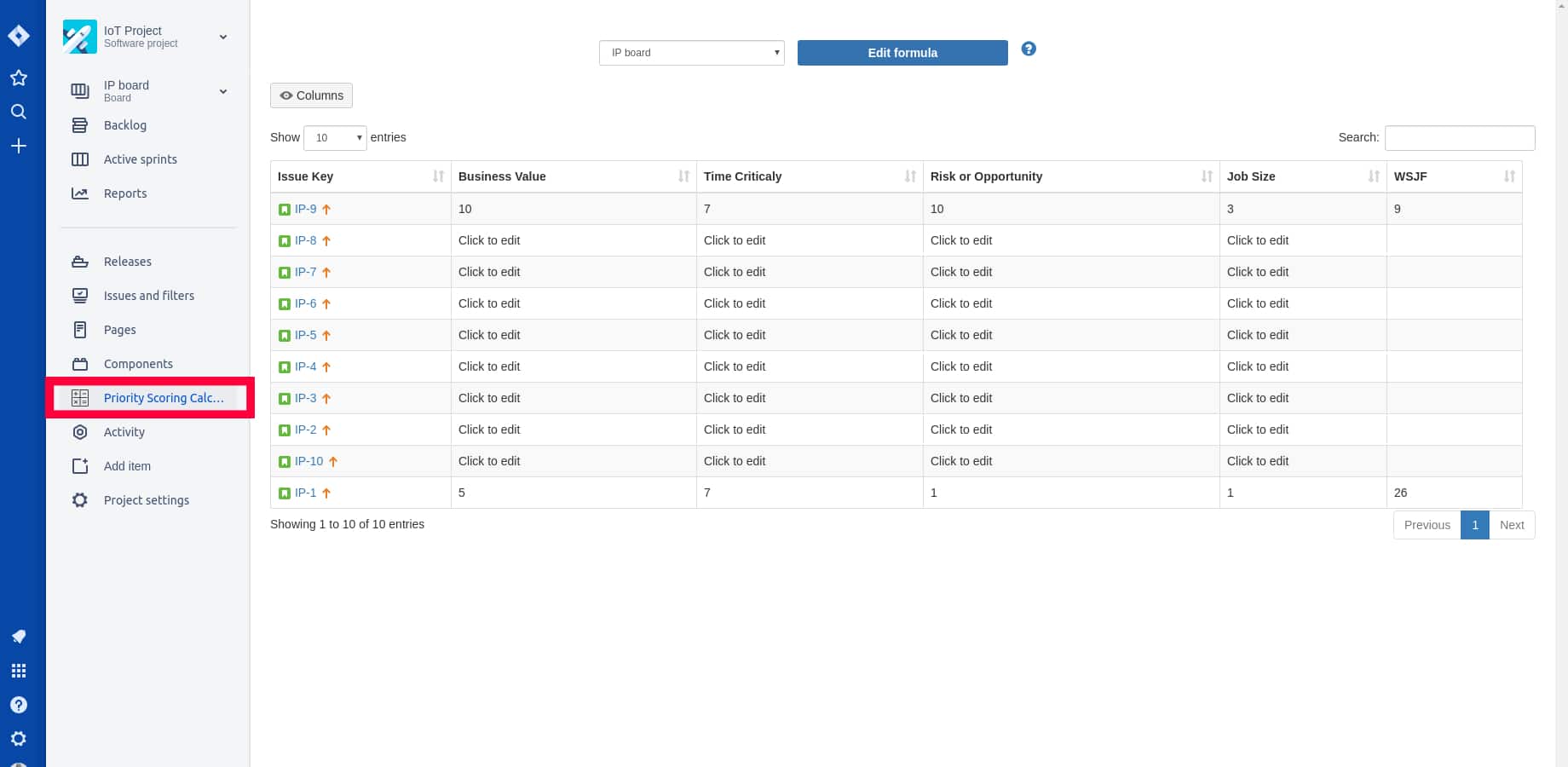 2. Custom fields configuration
2.1. Using default plugin formula
Priority Scoring Calculator comes with a default formula :
("Business Value" + "Time Critically" + "Risk or Opportunity") / "Job Size" = "WSJF" )

This formula uses WSJF (called "Weighted Shortest Job First") for prioritizing jobs based on the economics of product development flow. For futher reading, you can follow this link

If you choose to use that formula, you just have to add already existing plugin custom fields to your project screens (Go to Project Settings, Screens).
This is mandatory to be able to update fields in the plugin dashboard.

Note for next-gen projects : If you are using a next-gen project, you cannot access existing plugin customs fields. You will have to create new ones with the same name to be able to use the standard formula
2.2. Using your custom formula
If you want to use your custom formula, you need to create your own custom fields.
While creating these custom fields, you need to pay attention to the following requirements :
All custom fields have to be of type number
You must add your new custom field to your project screens (Go to Project Settings, Screens).
If you are working with multiple projects, you need to add your custom fields to every projects
You don't need to create numbers if your formula include some (i.e 100 or another percentage)
For more information about custom fields configuration, Click here.
3. Edit your formula
Click on the Edit formula button to customize your own formula.
Please use the dropdown to view available custom fields and click on 'Add Custom Field' button to add it to the formula.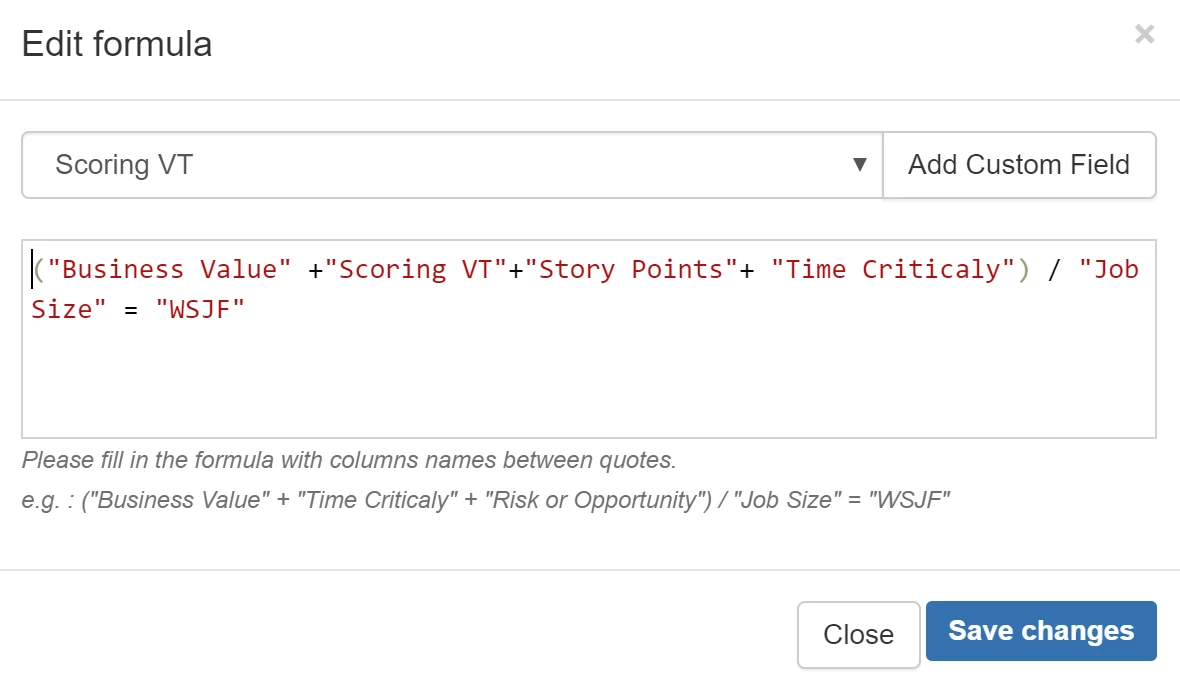 Requirements :
You must use custom fields names
Custom fields must be surrounded by quotes "custom_field name"
Operators are given on the example (c.f Print-screen above)
In case of mistake, you will get an error. Please verify that your checklists (1 and 2) are fulfilled
3.1. Further formula update
if you update your formula by changing computation or adding a new field, changes will be not be automatically reflected to issues.You can then use a bulk operation to initialize the newly created field with a defaut value.
More information about bulk operation below : https://confluence.atlassian.com/jiracorecloud/editing-multiple-issues-at-the-same-time-902498099.html
4. Use cases important notice
4.1. Using the plugin with a Scrum Project
If you are using a Scrum project and you want to work with epics, you must create a kanban board on the project in stead of using the scrum board, otherwise epics will not be shown in the table of results.
4.2. Using the plugin and query multiple projects
If you are using a kanban board based on a JQL filter linking multiple projects issues, the project where the board is created must be included in the JQL even if it's an empty project. Otherwise, the kanban board will not be shown in the dropdown list of available board in the plugin page.
Please also note that with multiple projects configuration, your formula must be set in every project individually.
4.3. Using the plugin with projects other than Scrum or Kanban (Eg: NextGen, Service Desk,..)
For Service Desk Project type, it is not possible to select a board in the list. All issues from the backlog are displayed excepting those with status Done, Resolved and Closed.
For Next-gen Project type, only the default board in the list. All issues from the board are displayed but you can use the input filter of the table results for example to display only 'Epic In Progress'.
Please note that you have to display those columns if you want to filter in the result table.
5. Fill in values
If there is already a value in the cell, we advice you to double-click on it to be more efficient because It will automatically select the value to be replaced.

When all values are fill in, the score will be updated automatically.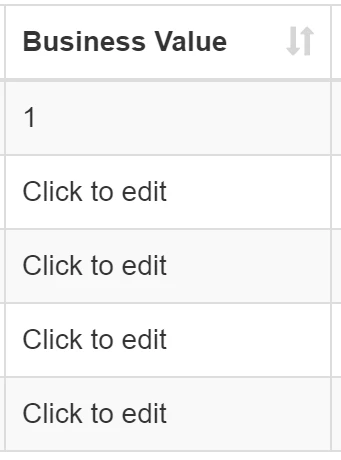 6. Filtering
You are also able to sort and filter the table of results by issueType (eg: Epic, Story,…)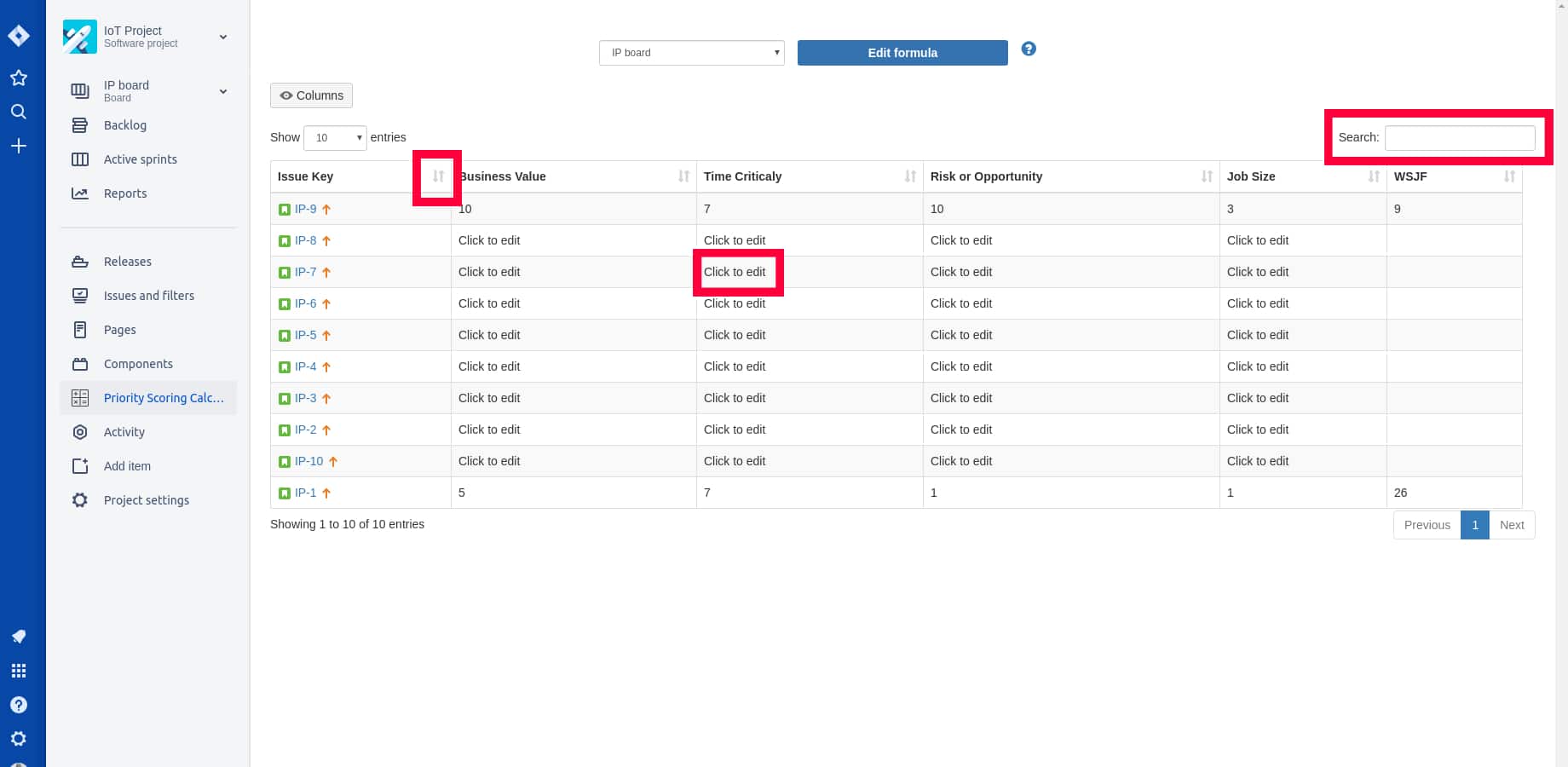 You can use multiple filter kewords in the search input, for example Epic In Progress