Purpose of the plugin
Budgetizer is an expense tracker for visualizing cost of issues in real time.
Support
Click here to send a feature request or report a bug in the app.
How to use
Table of contents
Open Budgetizer
Configure authorizations
Configure default currency
Portfolio Structure Overview
Create your portfolio
Open your portfolio
Configure your portfolio
Browse your portfolio
Set Members hourly rates
Visualize issues cost and portfolios total cost
1. Open Budgetizer
Budgetizer is located on the main menu.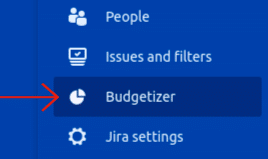 2. Configure authorizations
By default, users in site-admins group are administrator of the app and are able to access Budgetizer and browse portfolios. You can update these group in the 'Permissions' tab.
Please note that users in the app default admin group will be able to browse all portfolios even if they are not owners.


3. Configure default currency
Default currency is set to USD.

4. Portfolio's structure overview
Choose between simple portfolio or portfolio with programs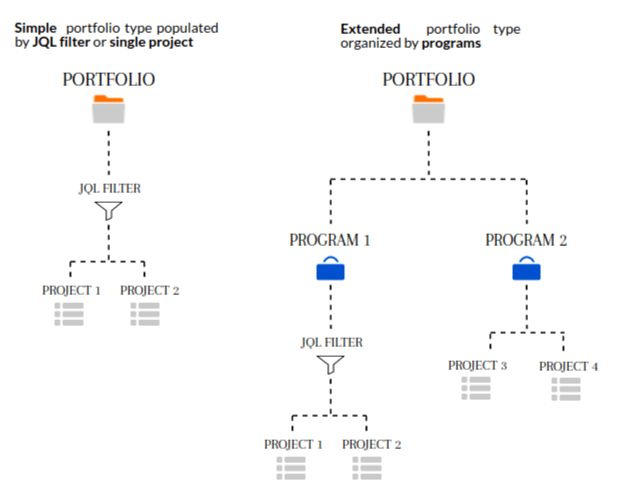 5. Create your portfolio
Click on the button 'Create portfolio' located on the main page.
Type-in all required information and click on 'save changes'.
Please note that you can enter more than one owner for the portfolio.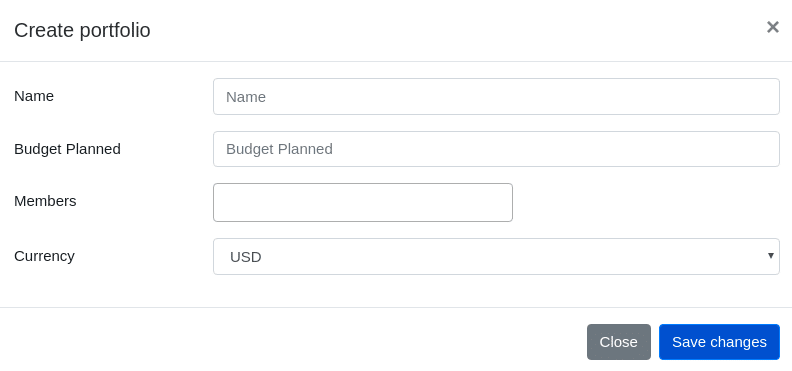 6. Open your portfolio
Your portfolio is now appearing in the list. Click on the 'Open' icon to configure your portfolio.


7. Configure your portfolio
Choose 'Filter' as portfolio type and type-in the name of your JQL filter. Your must enter at least 3 characters to retrieve the list of filters suggestions.
Please note that your filter must be shared with other portfolios users to allow them to access the content of the portfolio.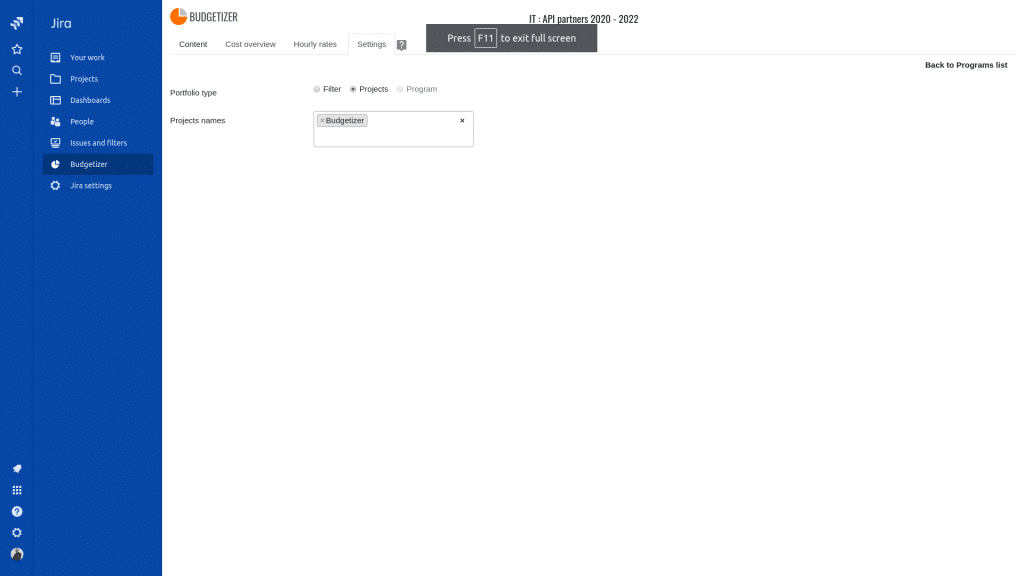 8. Browse your portfolio
When you set a filter, the system will linked all issues from the filter to your portfolio. When the system has finished the process, click on the tab 'Content' to display your portfolio.

In your portfolio content, you can view attributes related to worklog and cost. You can also open issues to a new window and visualize issues worklogs.
Please note that default sorting (eg: by creation date) can only be configured within a JQL filter.
For advanced issues filtering and searching, We recommend to export the content in CSV.


9. Set members hourly rates
If you already have worklogs in your backlog, the system will display the list of team members who have already added an entry, otherwise only the default hourly rate will be displayed.

Enter the hourly rate and click on the 'Save' button.
10. Visualize portfolios budget allocation chart
Charts are enabled at portfolio and value streams level.